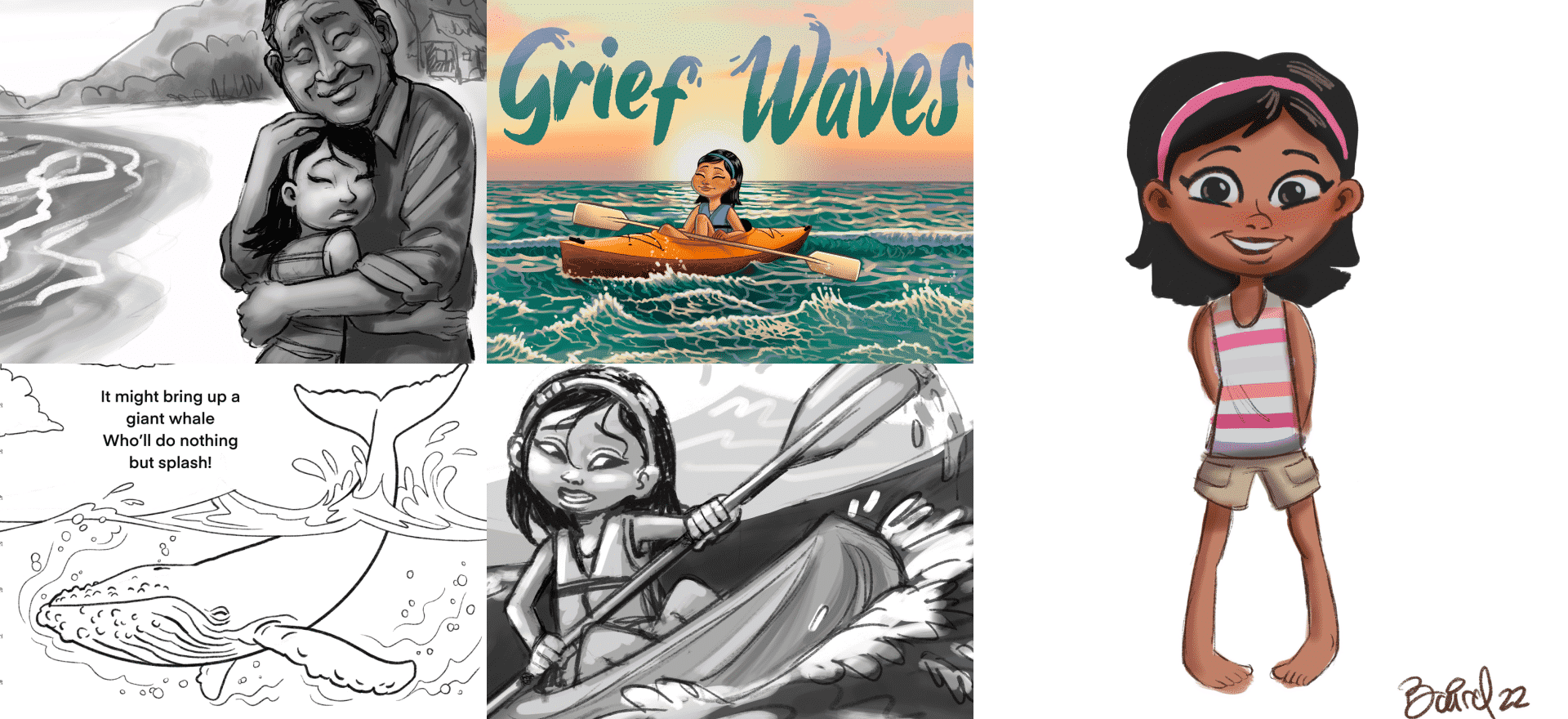 "Grief Waves" - by Jamie Jensen
When we think of grief – we think of death. And that's okay! We associate those feelings of grief with a loved one passing away and we are grateful there are so many helpful resources for those who are suffering with that kind of grief.
But what therapists and other professionals are finding is that grief can show up in all kinds of loss! Those feelings of grief come up when we lose anything we value and so the processing of grief in children can happen gradually and over time instead of all at once at a sudden death. We can feel grief when we lose an opportunity, break a bone, lose a friendship, etc. Losing a friend is what Nora is processing in our new book "Grief Waves". She wonders how to grieve someone who is still living and it frustrates her. Her Grandpa uses the ocean, kayaks, and waves as an analogy to help her process her feelings of loss. And he does mention a time he and her grieved once before and helps her remember that the two feelings are both grief. There are applicable questions, all therapist approved, at the back of the book to help you and your child (or client/class) process grief in its many forms and as many times as they need.
You can read the entire book on our kickstarter page! See if it's something you would find helpful in your work or personal life!
Back this project on Kickstarter
To be Published June 2023
Grief, Processing, Parenting
True Worth Books
What therapists are saying about "Grief Waves":
The vivid tenderness of "Grief Waves" gently normalizes the intensity of feelings and time as it pertains to grief! This book is excellent for grade school children experiencing rolling emotions of disenfranchised grief in friendship changes. "Grief Waves" is an essential for parents and professions supporting the changing tide of children's grief.
"Grief work is life work! Grief Waves is a thoughtful reflection of that process. As the story unfolds it gives permission for a range of emotions felt. Grief Waves offers an invitation for conversation in ways that honor loss while holding space for the process of grief work." Erin Shepard LCSW Mental Health Therapist.
In "Grief Waves" Jamie Jensen splendidly addresses the complicated manifestations of grief and loss by offering children a concrete metaphor they can understand.