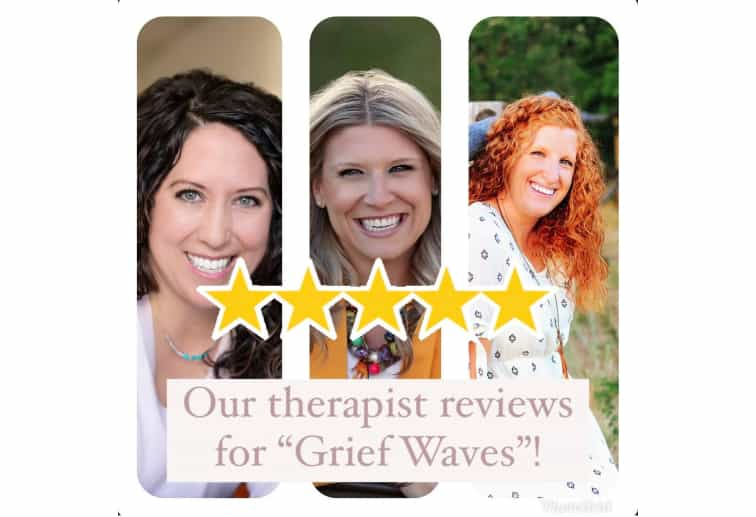 Therapist Reviews of Grief Waves
Being an organization focused on providing emotional health resources to parents such as our children's books, working closely with therapists is very important to us. We involve several therapists every step of the way during the initial writing phase of each of our books. If something doesn't sound right, or we're missing something, we count on our therapists to help us know.
The success stories that we often hear about parents and children connecting and having amazing conversations about guilt, shame, grief, etc can largely be accredited to the constant collaboration we've had with our therapists over the years. We're incredible grateful for the professional experience and knowledge our therapist community provides us.
It would seem amiss though to not mention our beta readers when mentioning those who have contributed to making our books a success. Our beta readers consist of children, teachers, and parents just like you. If you're reading this and would like to be a part of one of our future projects, reach out to us! We love talking about new book ideas!
Here are some of our most recent therapist reviews of Grief Waves:
"The vivid tenderness of "Grief Waves" gently normalizes the intensity of feelings and time as it pertains to grief! This book is excellent for grade school children experiencing rolling emotions of disenfranchised grief in friendship changes. "Grief Waves" is an essential for parents and professions supporting the changing tide of children's grief."- Stephanie Heitkemper, MA MFT, LPC, RPT, FT
"Grief work is life work! Grief Waves is a thoughtful reflection of that process. As the story unfolds it gives permission for a range of emotions felt. Grief Waves offers an invitation for conversation in ways that honor loss while holding space for the process of grief work. It is developmental work. Being able to recognize and cope with grief supports are emotional health throughout the life span. I value being able to honor and hold space for grief in our everyday lives in all its forms. When grief is commonly labeled and talked about in our life it arms us with adaptive coping. Grief Waves is an invitation to have those conversations through a sweet story that is easily relatable. The perfect addition to a well-rounded bookshelf."- Erin Shepard LCSW Mental Health Therapist
"In "Grief Waves" Jamie Jensen splendidly addresses the complicated manifestations of grief and loss by offering children a concrete metaphor they can understand. In "Grief Waves", Jamie Jensen has created (and visually portrayed) an outstanding metaphor that will allow children not only to understand the emotional experiences, but to begin to develop the language to discuss and explore it. 'Grief Waves' is the exact book parents and caregivers have been searching for to help children navigate grief and loss. Jensen's outstanding metaphor encourages children to grapple with the many complicated aspects of grief. Moreover, Jensen has acknowledged what is so critical for us to convey to children - grief is not only felt with death. Rather, it can come in many forms and there are tools like these to help children navigate all kinds of grief." - Sarah Scott Dooling, LCSW, RPT-S
Want to help us continue the conversation on emotional health topics with our kids?
Our second book "Grief Waves" is on Kickstarter!
Preorder "Grief Waves" Now!